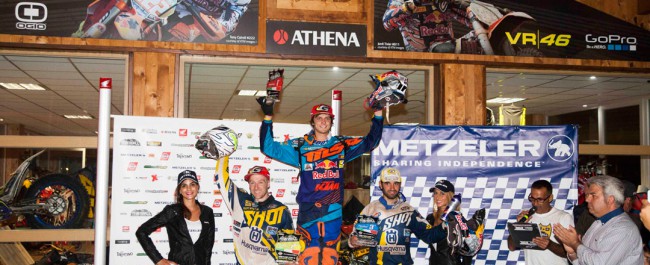 Walker Wins The Wall Extreme Enduro Race
KTM's Jonny Walker has topped the first running of The Wall Extreme Enduro Race held at the Off Road Park in Pietramurata, Trento, Italy. Bringing together many of the extreme enduro world's best racers with Enduro World Championship regulars like Alex Salvini, Johnny Aubert and Thomas Oldrati, Walker topped both the morning qualifying race before going on to top the 'final race' held under the cover of darkness.
Looking to return to his winning ways having placed as runner-up at the recent Tennessee Knock Out in the States, Walker did exactly that by putting his name at the top of the morning's multiple special test event. Placing ahead of Italians Thomas Oldrati and Alex Salvini, Walker topped three special tests.
Faced with a completely new track for the final race, Walker again set the pace from the start. Going on to post the fastest time in all of the special tests he topped the final podium ahead of Graham Jarvis and Alfredo Gomez.
Walker's next race is Red Bull Sea to Sky in Kemer, Turkey, September 2-4.
Jonny Walker: "The Wall has been a great event, I've really enjoyed it. It's quite a lot different to most other extreme events I race, with the multiple special test format, but starting off by winning the morning race was cool. Racing two special tests – one enduro test and one motocross test made things interesting. I felt like I rode pretty well. Also, to be racing at 100% again makes a huge difference. Being sick before the Tennessee Knock Out a few weeks back wasn't fun at all. The new test we used for the second part of the race was also really good fun, with a few tricky places that could catch you out. I managed to win all of the tests but I was a bit lucky because I crashed on the last one. I took it a little easy as I knew I didn't need to go all-out, but right near the finish I crashed. It was a little stressful there for a while but I managed to pull some time back and get the win. It's been a great event."
Results – The Wall Extreme Enduro Race 2015
Jonny Walker (KTM)
Graham Jarvis (Husqvarna)
Alfredo Gomez (Husqvarna)
Manni Lettenbichler (KTM)
Alex Salvini (Honda)
Thomas Oldrati (Husqvarna)
Photos: Cristiano Morello