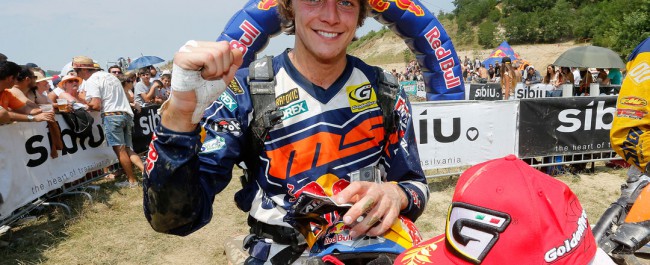 Walker Hopeful of Red Bull Hard Enduro Grand Slam
KTM's Jonny Walker has his sights set on securing a perfect extreme enduro season at this weekend's Red Bull Sea to Sky event in Turkey.
Enjoying his best year of extreme enduro competition to date, Walker heads to the final event on the Red Bull Hard Enduro calendar undefeated in 2015. With wins at Hell's Gate, The Tough One, Red Bull Hare Scramble, Red Bull Romaniacs and most recently the Red Bull 111 Megawatt, Walker has consistently remained as the rider to beat throughout 2015.
Delivering a confident display of riding to secure a debut victory at the Megawatt race in Poland, Walker claimed victory by a comfortable two minutes. Now the KTM rider is gearing up to create a little piece of extreme enduro history.
If Walker can claim victory in Turkey – one of his favoured events – he will become the first rider to win all of the major extreme enduro events in one season and secure the Red Bull Hard Enduro Grand Slam.
Red Bull Sea to Sky takes place in Kemer, Turkey from October 2-4.
Jonny Walker: "If I'm honest, I'm a little excited for this year's Red Bull Sea to Sky. It's always one of my favourite races of the year – the terrain is awesome. It's got everything – sand, forestry and of course a really big mountain. It's a tough race but a lot of fun to ride. This year my season has been great – it's gone better than I could have hoped for. I never expected to be in this position of aiming for a perfect season. But I'm trying not to let the talk of winning the Red Bull Hard Enduro Grand Slam get to me. I'm just treating it like every other race on the calendar. Personally, I feel like I've got something to prove in Turkey. I had a great run there in 2013 when I won every part of the race but then last year I finished second to Graham Jarvis. I want my Sea to Sky crown back so that's what is motivating me to succeed in Turkey. I want to end my extreme enduro season on the top step of the podium."
Red Bull Hard Enduro World Ranking 2015
Jonny Walker (KTM) 100pts; 2. Graham Jarvis (Husqvarna) 82; 3. Alfredo Gomez (Husqvarna) 63; 4. Andreas Lettenbichler (KTM) 56; 5. Lars Enockl (KTM) 33; 6. Mario Roman (KTM) 28; 7. Jonathan Richardson (KTM) 24; 8. Ben Hemingway (Beta) 23; 9. Philipp Scholz (KTM) 20; 10. Dan Hemingway (Beta) 15…